Without a doubt this is one of the best ways to maintain or enhance the look and also add value to your property.
Rotted timbers or facia can cause serious problems if not removed.
UPVC facia and cladding, when fitted, requires no further maintenance or repair.
We also ensure that when fitting a dry verge system that the verge tiles are removed and the end of the tile batten extended to suit the new dry verge system. The tiles are cut to suit and fitted into the new dry verge.
Your roof is not only the most vulnerable and neglected part of you house but also probably the most expensive to replace. Don't take chances with a non-specialist cladding company or 'one-man bands'.
When you choose Breen Roofing to supply and install your fascias, soffits, house cladding, and guttering, you're guaranteed a service that values your roof as much as you do.

Topseal is the ultimate fibreglass flat roofing system suitable for both domestic and commercial works. The UK's leading GRP flat roofing company. Topseal GRP roofing systems have been installed on millions of square meters of roofs over the last 20 years all over the UK.
We are also registered with Scottish Building, click on the following link to view their web site www.Scottish-building.co.uk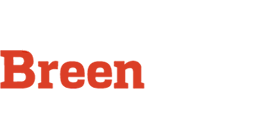 6 Hill Street
Ardrossan
Ayrshire
KA22 8HE